Amazing Insole Testimonials
BUY these!!!! It's like walking on water-the best thing for your feet ever! Your feet will love u all day! I would even just recommend them to anyone that has a job that requires them to be on their feet all the time-so comfy and you WILL LOVE them!

Linda -Virginia Beach, VA
These are the best things I have bought! I have been buying those heel pain insoles for along time, from the store. But when I got these new Liquid Filled insoles they are the only ones now! Good for my feet!

Ken Smock - Boise, ID
Been suffering from plantar fasciitis for many months. Was not able to run as I did before. But these insoles are awesome. I love it. I am using it while running and walking. Planning to buy one more pair.

Jim Rossy - Canoga Park, CA
Amazing Insoles Demo Video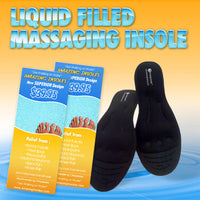 Benefits of Amazing Insoles
Say goodbye to foot pain! Our shoe inserts help reduce the effects of fibromyalgia, heel pain, plantar fasciitis and heel spurs.
Our Therapeutic Massaging Insoles are made with 100% pure liquid glycerin, giving you the sense of "walking on water".
Buy Now
Runners, Joggers or High Arches
For running, jogging or high arched feet, check out the Heelinator 3/4 length shoe insert. The Heelinator features a high arch support and a heel cup with a gel cushion, providing great heel pain relief. The "Plantar Relief Bridge" that supports the arch of the foot is a great plantar fasciitis treatment.
Heelinator Testimonial
This is the only heel insole that works. Tried several but this one works.

Mike Cox from West Union, SC
Since I have been using this insole, my feet have been less sore/tired at the end of the day. I would recommend to my friends.

Nancy Gregory-Anderson from Dillingham, AK